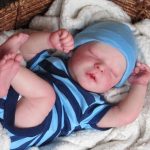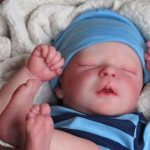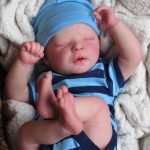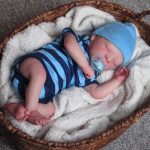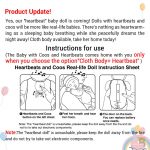 Realistic 17.5" Dale Reborn Baby Doll
$86.99 – $95.99
Length: about 44.45 cm or 17.5 inches
Weight: about 0.70 kg
Doll Type: cloth body
Eyes: eyes closed, no eyelashes
Hair: rayon wig, very soft, can be cleaned and trimmed to any style you want.
Scent: soft baby powder scent, the scent of the baby comes from the silicone vinyl material, non-toxic and eco-friendly
Safety: conforms or exceeds the safety requirements of ASTM F963 and EN71 for ages 3+, which is safe for your children
Props used in photography are not included

Update!
Yes, our "heartbeat" baby doll is coming! Dolls with heartbeats and coos will be more like real-life babies. There's nothing as heartwarming as a sleeping baby breathing while she peacefully dreams the night away! Cloth and silicone body available, take her home today!
Instructions for use(Only Cloth Body+ Heartbeat Options)
Note: The "heartbeat doll" is unwashable, please keep the doll away from the fire and do not try to take out electronic components.
Baby's identification
💖 Name: Dale
💖Gender: Baby Girl
💖Height: 17.5 inch
💖 Weight: 1.54 LB
💖 Hair: Hand-rooted mohair or synthetic hair, brown
💖 Eyes: Eyes closed
💖 Eyebrow: 100% pure hand-drawn
💖 Nail: 100% handmade nails, pink nail bed, translucent nails
💖 Scent: A soft baby powder scent
Details about this baby:
Length: about 44.45 cm or 17.5 inches
Weight: about 0.70 kg
Doll Type: cloth body
Eyes: eyes closed, no eyelashes
Hair: rayon wig, very soft, can be cleaned and trimmed to any style you want.
Scent: soft baby powder scent, the scent of the baby comes from the silicone vinyl material, non-toxic and eco-friendly
Safety: conforms or exceeds the safety requirements of ASTM F963 and EN71 for ages 3+, which is safe for your children
Props used in photography are not included
Baby will come home to you with the following:
A compact baby's bottle
A magnetic pacifier
A birth card
A hairband
A set of clothes. The doll's clothes in the picture are only used for shooting, the clothes are not in stock, so the doll's clothes will be sent at random.
Order now
You will get a fabulous box opening 🎉
Hits: 66