17″ Lifelike Cute Light Brown Hair Reborn Girl Georgia,Can Sit and Lie Down
$82.99
Introducing Meadow, the newest addition to our 17-inch doll collection. We were thrilled to receive this toddler girl. Her beauty is truly mesmerizing, from her radiant doll face and her delightful open mouth expression to her delicately detailed toes and nails that capture a real baby!
The warmth of spirit shines from the eyes of our beautiful baby girl, Meadow. With her pink cheeks and round gray eyes, the long-awaited moment has arrived to meet our newest addition: Princess Meadow!
It's all in the details
Gender: Baby Girl
Reborn Doll Series: Meadow
Skin Tone: Caucasian
Size&Weight: About 17″ from head to toe(bent legs need to be counted),  1.35 lbs
Hair: Hand-rooted light brown
Eyebrow:100% pure hand-drawn
Lashes: Hand-rooted
Eyes: Awake, artificial acrylic eyes, clear and bright, grey eyes
Nail: 100% handmade nails, pink nail bed, translucent nails
Smell: Soft baby talcum powder smell, the babies' smells come from touching real vinyl material, it's non-toxic and environmentally friendly
SAFETY CERTIFICATION: ASTM F963 and EN71 certified, non-toxic, and safe for ages 3+
Body Material:
Cloth body
The baby's shoulders and body are made of cloth and filled with PP cotton inside and soft like a real baby, the arms and legs are made of soft silicone vinyl. The doll cannot stand or bathe, the limbs are not detachable, but can easily sit, lie down and lie on its back.
GIFT READY
Reborn Baby Doll * 1
Magnetic Pacifier (random color) * 1
Baby Bottle (random color)* 1
Birth Certificate* 1
Baby Clothes * 1 (randomly chosen)
Random Gift *1(Headbands, hair clips or plush dolls, etc. Depending on actual stock.)

Attention:
The props shown in the pic are Not Included in the package. Some of the accessories we used for shooting are sold on our accessories page separately. And Don't worry, all our dolls are dressed in Real Baby Clothes designed by ourselves and Made to Order. Also due to the lighting, there may be a slight difference in the actual skin tone compared to the picture.

Doll Haircare Tips:
The actual hairstyle might differ from the picture and we recommend that you discover new looks for your doll using some doll accessories. (A perfect way to encourage roleplay and creative fun!)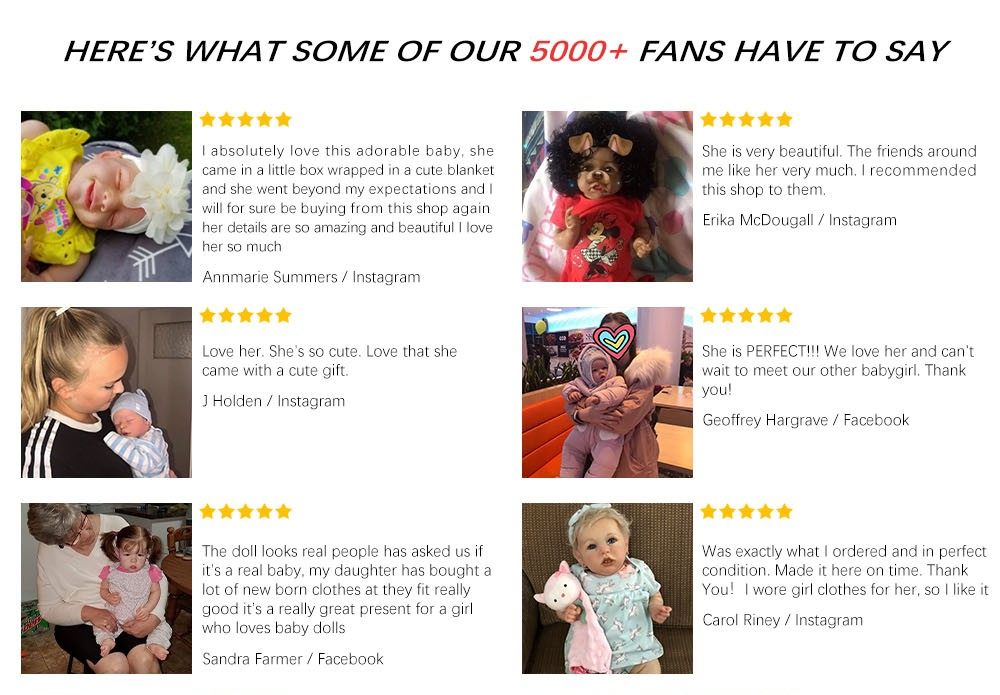 Best For:
1. Festival gifts, Birthday gifts for lovers and kids.
2. Play doll for Children and Grandma Accompany doll that will never let them feel alone.
3. Add to your Collection of Lifelike Baby.
4. For training of Maternity Matron, Nursery, mother-to-be.
5. Props for shooting TV or movie.
6. Health workers for Alzheimer's, Autism & and many more with special needs with huge health calming benefits.
Hits: 10